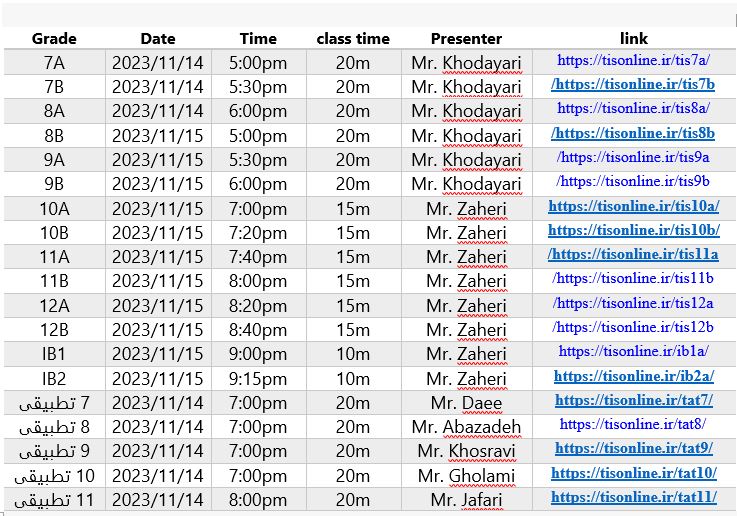 Hello and respect,
Regarding improving the education process and meeting the needs of our dear students in grades 7 to 12 in the international and IB levels, we are pleased to present a calendar for conducting preprat for online classes at the International School Boys.
This calendar, along with the necessary guidelines, will help you easily and efficiently utilize the online classes held under special circumstances. This modern communication method not only provides educational content but also facilitates interaction between students and teachers, providing the best opportunity for learning and student inquiries in unique conditions.
If you have any questions or need further guidance, please feel free to contact us by sending a message through the LMS system, IT unit (Mr. Karami).
Please note that attendance in online classes is mandatory for students in grades 7 to 12.
Install Adobe Connect software to access the system and enter the login page by entering your class link.
Use your national ID or passport as the username and password for login.
با سلام و احترام،
در راستای بهبود فرایند آموزش و پاسخگویی به نیازهای دانش‌آموزان عزیز در مقاطع ۷ الی ۱۲ بین‌الملل و تطبیقی ، مقاطع IB ، با افتخار تقویمی برای برگزاری آزمایشی کلاس‌های آنلاین در مجتمع بین‌الملل پسران ارائه می‌دهیم.
این تقویم، همراه با راهنمایی‌های لازم، به شما کمک می‌کند تا به‌راحتی و با بهره‌وری بالا از کلاس‌های آنلاین که در شرایط خاص برگزار می‌شود استفاده کنید.
این روش ارتباطی ، علاوه بر ارائه محتوای آموزشی، امکان برقراری تعامل بین دانش‌آموزان و معلمان را فراهم می‌کند و بهترین فرصت برای یادگیری و پرسش و پاسخ دانش‌آموزان در شرایط خاص را فراهم می‌سازد.
در صورت داشتن هرگونه سؤال یا نیاز به راهنمایی بیشتر، لطفاً با ارسال پیام در سامانه LMS واحد IT (آقای کرمی) با ما در ارتباط باشید.
· لطفاً توجه داشته باشید که حضور در کلاس‌های آنلاین برای دانش‌آموزان در مقاطع ۷ تا ۱۲ الزامی است.
· برای ورود به سامانه نرم‌افزار ادوبی‌کانکت را نصب نمایید و با واردکردن لینک کلاس خود وارد صفحه ورود شوید.
· برای ورود از شماره ملی یا پاسپورت به‌عنوان نام کاربری و رمز عبور استفاده نمایید.
| | | | | | |
| --- | --- | --- | --- | --- | --- |
| link | Presenter | class time | Time | Date | Grade |
| | Mr. Khodayari | 20m | 5:00pm | 2023/11/14 | 7A |
| | Mr. Khodayari | 20m | 5:30pm | 2023/11/14 | 7B |
| | Mr. Khodayari | 20m | 6:00pm | 2023/11/14 | 8A |
| | Mr. Khodayari | 20m | 5:00pm | 2023/11/15 | 8B |
| | Mr. Khodayari | 20m | 5:30pm | 2023/11/15 | 9A |
| | Mr. Khodayari | 20m | 6:00pm | 2023/11/15 | 9B |
| | Mr. Zaheri | 15m | 7:00pm | 2023/11/15 | 10A |
| | Mr. Zaheri | 15m | 7:20pm | 2023/11/15 | 10B |
| | Mr. Zaheri | 15m | 7:40pm | 2023/11/15 | 11A |
| | Mr. Zaheri | 15m | 8:00pm | 2023/11/15 | 11B |
| | Mr. Zaheri | 15m | 8:20pm | 2023/11/15 | 12A |
| | Mr. Zaheri | 15m | 8:40pm | 2023/11/15 | 12B |
| | Mr. Zaheri | 10m | 9:00pm | 2023/11/15 | IB1 |
| | Mr. Zaheri | 10m | 9:15pm | 2023/11/15 | IB2 |
| | Mr. Daee | 20m | 7:00pm | 2023/11/14 | 7 تطبیقی |
| | Mr. Abazadeh | 20m | 7:00pm | 2023/11/14 | 8 تطبیقی |
| | Mr. Khosravi | 20m | 7:00pm | 2023/11/14 | 9 تطبیقی |
| | Mr. Gholami | 20m | 7:00pm | 2023/11/14 | 10 تطبیقی |
| | Mr. Jafari | 20m | 8:00pm | 2023/11/14 | 11 تطبیقی |
Release date: 1402/08/23